Deputy Principal - Head of Garnsey Campus
YEAR 11 BALL
The annual Year 11 Ball was held last Friday at the Sale Memorial Hall and once again it was a great success for the School. There were many smiling faces after the evening and I would like to congratulate all the students who participated for the enthusiastic manner in which they engaged in the preparation and training, for their commitment to the event and the way they conducted themselves on the night. I would also like to thank the many people who were involved in creating such a special evening for our students and families. Special thanks to our Events Co-ordinator Mrs Ged Caldwell, whose vision for the Ball saw the Memorial Hall transformed and who oversaw all aspects of the preparations including working with parents on the decorations. I also extend my thanks to the pastoral staff who worked with students to prepare, and the many other staff who assisted with the event.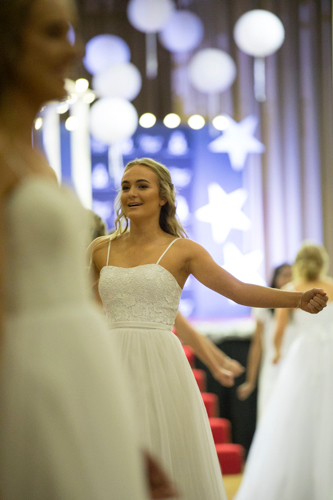 ATHLETICS SUCCESS
Congratulations to the Athletics team, which performed extremely well in both the South East Independent Schools Association (SEISA) competition and the Independent Country Co-Educational Schools (ICCES) competition, which were both held over the last week. Under the guidance of Miss Jenny Dyke, the team came a commendable second to Ballarat Grammar at the ICCES Athletics at Melbourne's Lakeside Park yesterday and we were also thrilled to see the team winning last Thursday's SEISA meet by more than 400 points. Of particular note, the girls won all seven of the relays and nine students achieved age champion places. Congratulations to age champions Ella Gerrand, Aiden Rodriguez, Sophia Wilson, Georgia Shell, Sienna Privitera, Ruby Luckie, Harry Wilmot, Georgia Finch and Sam Dunnett and a big thanks to Miss Jenny Dyke.
NAPLAN
The National Assessment Program – Literacy and Numeracy (NAPLAN) 2019 for Years 3, 5, 7 and 9 students will be held on Tuesday 14 May, Wednesday 15 May and Thursday 16 May 2019.  NAPLAN tests assess student knowledge and skills in writing, reading, language conventions (spelling, grammar and punctuation) and numeracy. All students are expected to participate in the NAPLAN tests, which provide information for students, parents, teachers and principals which can be used to improve student achievement. During test week, catch-up tests will be available for individual students who are absent on test days. Later in the year parents will receive their child's personal NAPLAN report, which will describe each students' particular skills in reading, writing, language conventions (spelling, grammar and punctuation) and numeracy. The report will also show how they performed in relation to national minimum standards. For more information about the tests, please visit www.vcaa.vic.edu.au or www.nap.edu.au