Deputy Principal - Head of Garnsey Campus
"First, I'd like to rebut our learned opposition's arguments".
As I write this newsletter on Thursday evening, I am sitting at St Margaret's School, Berwick, while 36 members of our debating team from Years 8-12 are busily preparing their debates. We have teams from A Grade through to D Grade, and I admire the enthusiasm the students have shown. After leaving Sale on Thursday afternoon we had a quick dinner stop before arriving at St Margaret's School just before 6pm, right in time for the release of the secret topics.
Our D Grade teams had a prepared topic - "That we should abolish standardised testing (such as NAPLAN)" - but the release of the topics for A, B and C Grades was much anticipated. Once the topics were announced the students had an hour to prepare their debates, which included topics about coal mining, CEO wages and vaccinations.
The students in each of our eight teams debated well and I enjoyed a wonderful evening of arguments and rebuttals and I particularly enjoyed seeing our students' focus on their manner, matter and method. Public Speaking continues to be a great fear for many people, and though there were a few nerves before the debates, I do admire the way Gippsland Grammar students, even from our junior year levels, are able to stand in front of an audience and speak with such confidence and coherence. I thoroughly enjoyed my evening and congratulate the debating team, along with the teachers in charge, Ms Rachel Patton and Ms Zoe Hilliar for their support and guidance of the teams.
DA VINCI DECATHLON
The da Vinci Decathlon is an academic competition designed to challenge and stimulate the minds of school students. On Wednesday Gippsland Grammar hosted the regional da Vinci competition with students from St Paul's Traralgon, St Paul's Warragul, Maffra Secondary College and Catholic College Sale in attendance. Students competed in teams of eight across 10 disciplines including engineering, mathematics and chess, code breaking, art and poetry, science, English, ideation, creative producers, cartography and general knowledge. I would like to pass on my congratulations to our three Year 7 teams for their involvement and the curiosity and problem solving they displayed. Two of these three Year 7 teams placed first and second out of 11 teams, which will see them compete in the State finals at MLC in Melbourne next week. Congratulations also to a team from St Paul's Anglican Grammar, which placed third.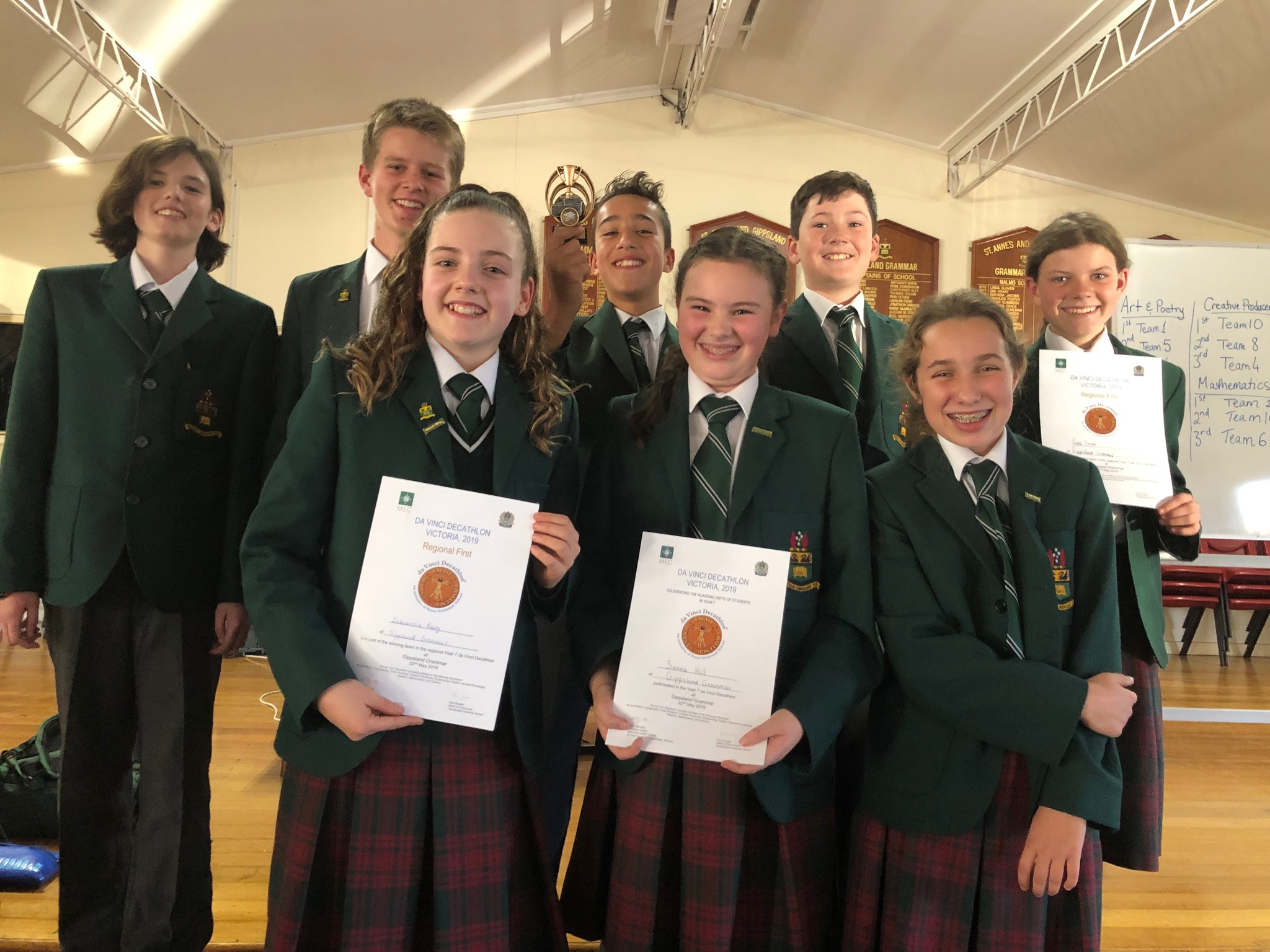 RECONCILIATION WEEK
Next week, we will mark Reconciliation Week with a guest speaker at our Reconciliation assembly on Monday and a focus on reconciliation in next week's Chapel services.
DROUGHT ASSISTANCE GRANTS
The State Government is providing assistance through the Camps, Sports and Excursions Fund to all primary and secondary students attending schools in the Wellington and East Gippsland Local Government Areas which are currently drought affected. To access this funding, families must complete an application form (via the link below) and return it to the school. Gippsland Grammar will then make bulk submissions to the government, which will enable a payment of $375 per student to be made to Gippsland Grammar. This amount will then be credited to each student's debtor account.
All Gippsland Grammar students from Foundation to Year 12 are eligible for this payment even if they do not reside in either Wellington or East Gippsland shires. So far we have received applications on behalf of 570 of our students but the school cannot include a student in a submission to the government unless an application has been received. So we encourage all parents and guardians to download the form as soon as possible as the program finishes at the end of Term 2.
 
The application form can be found at
https://www.education.vic.gov.au/Documents/school/teachers/management/