Head of St Anne's Campus
Welcome back to Term 2, and I hope all families had an opportunity to spend quality family time during our two-week break. This is a short term, though we have a significant number of learning opportunities planned for our students.
ANZAC Day
I hold ANZAC Day as one of our most important days of the year. This year, we honoured ANZAC Day and the meaning behind it, in a number of ways. Our Campus Captains Regan and Indiana represented St Anne's at yesterday's ANZAC Day service at Sale. And this morning, our Defence students presented our service at St Anne's where, due to the inclement weather, we had to move into the Lorna Sparrow Hall. Students spoke about the history behind the day, what ANZAC means, and some of the traditions that surround ANZAC Day. Thank you to Glen Morris, a parent of Gippsland Grammar, for playing 'The Last Post' and the 'Rouse.' Thank you also to our DSTA officer Mrs Amanda Canfield for preparing the service. It was fitting that we were able to capture a great photo of all of our Defence students and their parents parents who serve in our Defence force.
Rubbish Free
As a campus, we have been focusing on becoming a 'Rubbish Free' School. Our aim is for all students and adults to bring healthy, rubbish-free food, every day. We are striving to change behaviours that will have a positive impact locally.  St Anne's students, Daniel (Year 4) and Jacqui  Neilan (Year 5), decided to tackle the rubbish problem near their home head-on and so over the school holidays they collected rubbish from their nature strip, which is 200 metres long and adjacent to the local rail trail. Daniel and Jacqui knew there would be some rubbish however the amount collected in 4.5hrs shocked the Neilan family. Analysing the waste, they said main offenders were take-away containers and drink bottles.  Daniel and Jacqui have decided to focus on making smart choices as to what they purchase as a family, and how they discard it.
Some Australian supermarkets have stopped using some plastics. New Zealand has just pledged to ban all plastic bags within a year and we have all heard of the giant floating 'plastic islands' in the middle of our oceans. I believe that the solution to the global issue of waste created by humans will be solved through education and the young students of today. And while it can be overwhelming when faced with such a huge global issue, it's important to learn that we can still make a difference
State School Sports Swimming Championships
We had 10 students from St Anne's represent Gippsland at the State School Sports Swimming Championships at MSAC on Wednesday. The team comprised of; Jack Crowe, Obi Vardy, Teddy Ripper, Kody Said, Zayden Burton, Cooper Beckman, Makaylen Di Sisto, Lola Van Berkel, Aliesha Turnbull and Lily Canfield. A bus load of swimmers and parents travelled to Melbourne as a team and supported our swimming team. The team undertook extra training sessions throughout the holidays in preparation. A huge thank you to Mrs Simone Langshaw for organising and training the team, often on her days off.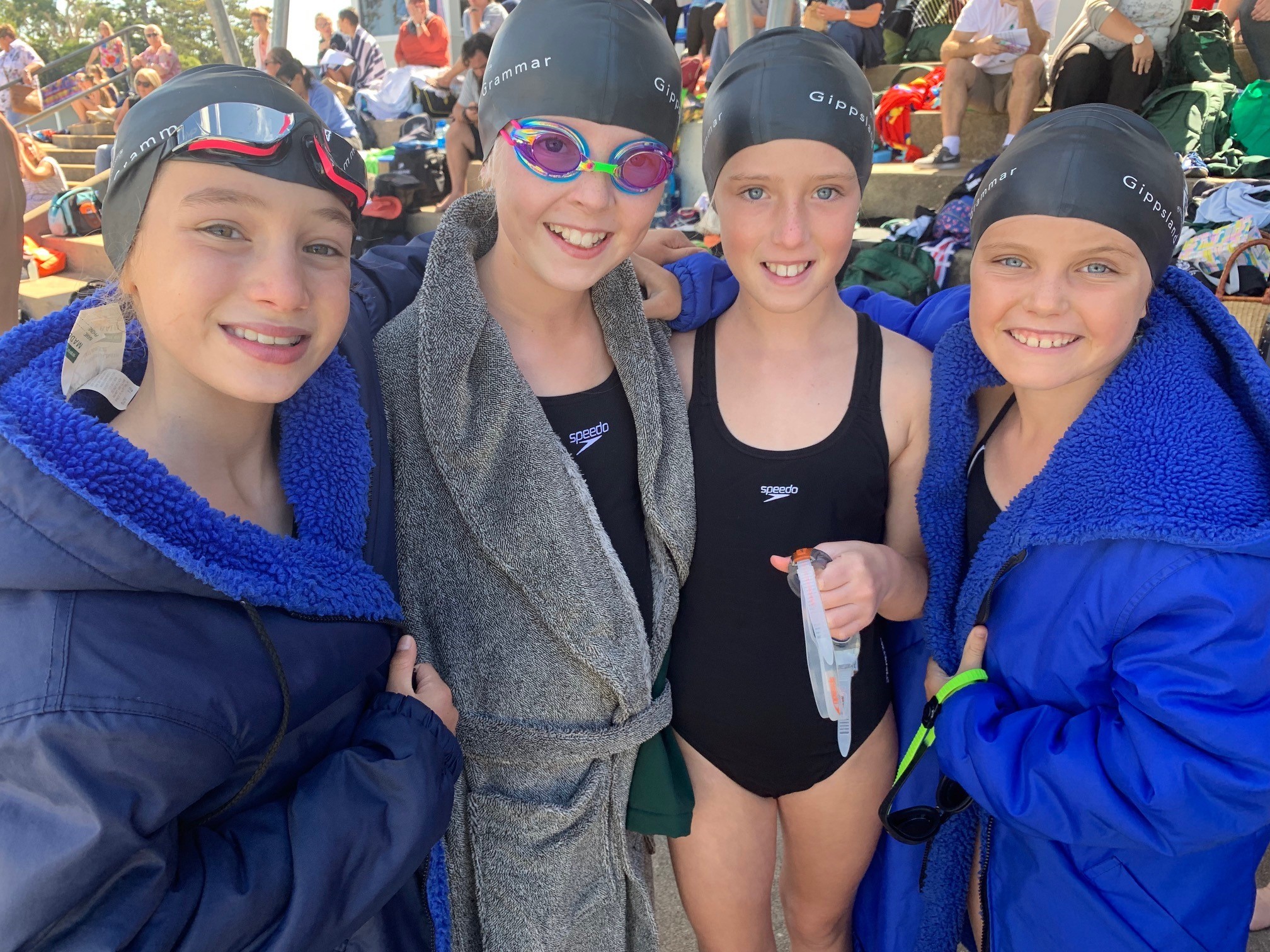 Equestrian Success
Late last term, some of our students represented Gippsland Grammar in the East Gippsland Primary School Interschool competition. Zara Stasinowsky, Xanthe Wade, Harry Gault, Joel Lamb and Millie Roach were all a part of the team. Thank you to Kalinda Wade and Kylie Gault for their organisation during this competition.
Japanese Overseas Tour
Next week I will share with you a report from one of our students who travelled to Japan over the school holidays as part of our Japanese overseas trip. A big thank you to Mrs Jan Chalmer, Mrs Rebekah Tayler and Mrs Etsuko Boulton for all of your organisation and care during the overseas trip. Below is a reflection from Rebekah Tayler on what the trip provided for our students
'The learning opportunities this trip provided our students with went far beyond anything we could teach in the classroom. In conjunction with building students intercultural understandings, we also supported students' personal and social competence to flourish. I was so impressed by our students and the growth demonstrated in such a short amount of time was remarkable.'
House Cross Country – Monday April 29
Just a reminder that our House Cross Country is on this coming Monday at the Catholic College ovals. Students are to come in their PE uniform and house colours. Parents and friends are encouraged to come down and support their children.
School Photos
The St Anne's Campus school photos will be taken over the following two days this year. Students are reminded to be in full winter uniform, with their hair neatly presented and shoes polished, etc.
Day 1 (Wednesday May 1)  Staff photo, staff individualp, class photos, individual student photos and sibling photos.
Day 2 – Monday May 13) All Captains, Leaders, Green Team, SRC, Instrumental Ensembles and all Choirs. Students should be reminded to bring their instruments for their ensemble photos on this day.
Regards,
Jie Van Berkel