Head of St Anne's Campus
TOUR OF JAPAN
At this morning's Fellowship we had the great opportunity to find out about our Year 5 and 6 cultural tour of Japan. Having the opportunity to travel overseas to experience Japanese culture is an amazing opportunity for our Junior School students and a display of photos and being able to hear first-hand experiences from the students who travelled to Japan certainly entertained the audience. A big thank you to Mrs Jan Chalmer, Mrs Rebekah Tayler and Mrs Etsuko Boulton for all of your organisation and care during the overseas trip.
NAPLAN
This week our Year 3 and Year 5 students completed NAPLAN assessments. It is important that we acknowledge that NAPLAN provides us with a snapshot of our student's academic understanding on that day and we look forward to celebrating our students learning when the NAPLAN results are released later this year.
CHAPLAIN JACKIE
Each fortnight we are enjoying having Chaplain Jackie spending a day at our St Anne's campus fostering relationships with students and also working in classrooms. We have also discovered that Chaplain Jackie is an expert at cup stacking! Each lunchtime when Jackie is at St Anne's, she runs a cup stacking session for interested students, which is just one of the many reasons we are fortunate to have a passionate chaplain working at our school.
STUDENT REPRESENTATIVE MOTHER'S DAY COMPETITION
Last week, the SRC held a competition to celebrate our Mums with all money raised going to the Cancer Council. Students had the opportunity to write a poem about their mum or draw a picture of them and the SRC were happy with the number of entries received and with the effort everyone put into their work. Our students must really love their mums! It was very hard for us to select just one winner in each category but we did finally choose our winners. In the Foundation to Year 2 category, the winner of the poetry was Milla Harper and the winner of the portrait was Elana Lazzaro. In the Years 3-6 category, the winner of the poetry competition was Lucy Dray and the winner of the portrait was Elsa Wynne.
WELLINGTON DIVISION CROSS COUNTRY
On Monday, our students representing the Sale district will compete in the Wellington Division Cross Country at the Yarram Golf Course. I had the opportunity to watch our Cross Country team compete in the Sale and District cross country last Friday and they performed extremely well under the guidance of our PE teacher Kate O'Toole. Our team heading to Yarram is; Leah Roberts (pictured), Ava Taylor, Alyssa Alcock, Lily Canfield, Louis Lazzaro and Dylan Board.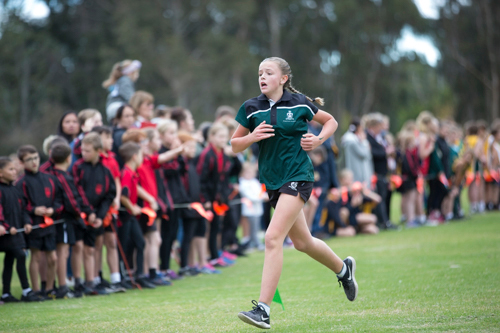 THE YORK STREET ENTRANCE 
Late this week, we received word that from next week the concrete path on York St side of St Anne's will be inaccessible due to new pavement work and there will also be some disruption to parking along York St (near the ELC entrance) as well. This will occur between 7.00am- 3.30pm for about the next 10 days.
Have a great weekend,
Jie Van Berkel